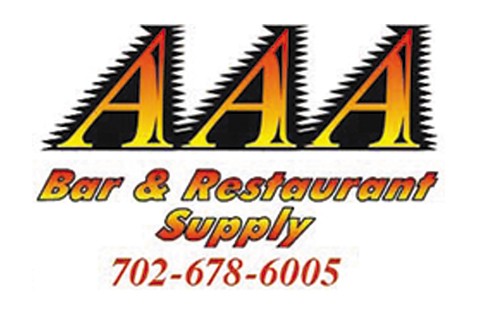 AAA Bar & Restaurant Supply
Company Description
Family Owned and Operated since 1980, AAA Bar & Restaurant Supply is your One-Stop Shop for both New and Used Commercial Cooking Equipment. Celebrating our 30+ years in business, AAA Restaurant Supply has developed from a small and used appliance house in Las Vegas to a full-fledged equipment dealer and foodservice industry supplier for our region. We provide our customers with everything they need to run their operations successfully. Visit our New 45,000 sq/ft Warehouse and 8.5-acre Facility located at 2025 E. Sahara Ave, Las Vegas Nevada to find the Best Deals in Town. Our Warehouse is filled Wall to Wall and Floor to Ceiling with Quality Equipment that is Used but not Used up.
We Offer a Wide variety of products including but not limited to Ovens, Ranges, Fryers, Hood Systems, Refrigerators, Back Bar Coolers, Bar Supplies, Pizza Equipment, Booths, Chairs, Tables, Bar Stools, menus, kitchen supplies, wash sinks, kitchen utensils, parts, furniture, and anything else it takes to create a property from the ground up.
Why Buy From Us?
• Over 30 Years in Business Locally in Las Vegas
• Your True One-Stop Shop
• Largest Selection of Used Equipment in the Country

In today's business world, getting equipment quickly and at low prices is a necessity, not a luxury. AAA Restaurant Supply is a full-service restaurant equipment company with a network of 400+ Equipment Vendors and Dealers that provide you with the Restaurant Equipment Products you need at low, everyday discount prices. AAA Bar & Restaurant Supply is a Proud Member of the Excell Foodservice Equipment Dealer Network. What does this mean to me? It means that you are doing Business with a reputable Equipment Dealer that provides National Buying Power and Local Expertise. We are working faster, harder, and more efficiently than ever to better to provide you, our customer, with the service you expect and deserve. We strive to provide service which exceeds your expectations. Please contact us and let us know how we can help you start saving money on quality Restaurant Equipment from a well-known and established firm.
Give us a call at 702-678-6005 and let one of our Friendly Sales Associates help you. Whether you need Equipment, Parts, or Rentals, AAA Bar & Restaurant Supply is a Triple Threat. We have a dedicated team of salesmen supporting you not only in our showroom but also in some cases traveling to your location to help you resolve your equipment and supply needs. We offer advice and help to start-up operations. Our knowledge and experience are what makes us different from our competitors. We are very knowledgeable and eager to help. We ship around the U.S. with a variety of different carriers. Ask for special shipping rates to California, Nevada, Arizona, and Utah.
Bring in or mention this ad
and receive 25% off your new small wares purchase!
Categories
Administrative

Apparel

Aprons
Clothing
Gloves, Cloth Or Synthetic
Hats & Caps
Uniforms & Emblems

Baked Goods / Supplies

Bakery Products
Baking Ingredients & Supplies
Sous Vide Cookware
Specialty Equipment

Bar Equipment

Back Bars & Equipment
Bar Equipment & Supplies
Underbar Equipment

Bathroom Accessories & Equipment

Baby Changing Tables
Hand Dryers
Restroom Sanitation

Beverage Dispensing Equipment

Coffee Brewing Equipment & Containers
Condiments Dispenser
Dispensers, Cream & Milk
Dispensers, Cup
Dispensers, Ice
Dispensers, Liquor
Dispensers, Napkin & Paper Products
Dispensers, Non-Carbonated Beverages
Dispensers, Soap & Detergent
Dispensers, Straw
Dispensers, Wine
Espresso Machines
Tea Making & Dispensing Equipment

Beverages

Drink Rimmers
Fountains, Beverage

Building Materials & Supplies

Equipment, Sales, Service & Parts

Décor & Display Materials

Dance Floors, Portable
Display Cases
Draperies, Curtains & Hangings, Stage
Fabrication
Fluorescent & Neon Lighting Fixtures
Food Service Design
Lamps, Floor, Table & Candle
Mats, Rubber Or Composition
Menu Accessories
Menu Boards & Menu Displays
Menus & Menu Covers
Platforms, Risers & Stages
Signs
Tools, Garnishing, Ice Carving
Toothpicks & Party Picks
Towels, Cotton, Linen, Paper

Events

Banquet Service Equipment
Catering Supplies & Equipment

Food Prep / Storage

Baskets
Bins
Carriers, Food & Beverages Insulated
Carts, Food Service
Chefs Luggage
Containers, Food
Food Preparation
Food Tables - Cold
Food Tables - Hot
Holding & Transport

Grease Exhaust Systems

Fan Maintenance
Hood & Duct Cleaning
Hood Filter Sales
Rooftop Protection Systems

Hotel Equipment Supplies

Inventory Control Equipment

Cooking Computers Or Timers
Heat Lamps
Trays

Janitorial Supplies / Services

Brooms
Brushes, Cleaning
Carpet Sweepers
Customized Food Guards
Dryers, Dish / Tray
Food Waste Disposers
Garbage Containers
Glass Washers
Grease Extracting Systems
Insect Light Traps
Janitorial Supplies
Kitchen Cleaning
Mops & Mopping Equipment
Pre-Washing Equipment
Rack Covers
Racks, Dishwashing, Storage
Sneeze Guards
Staff Shirts
Tray Washers
Vacuum-Packed, Vacuum-Sealed Bags & Pouches
Waste Disposal Systems

Kitchen Equipment

Aluminum Foil
Bakers Equipment
Barbecue Equipment
Blenders
Bowls, Mixing, Salad, Serving
Braising Pans
Breading Machines
Broilers, Charcoal
Broilers, Electric
Butchers Equipment
Cabinets, Foodwarming & Conveying
Cafeteria Equipment
Carbonators
Charbroilers
Choppers, Electric For Food & Meat
Cocktail Stirrers
Coffee Bean Grinders
Condiment Holders
Conveyors & Surveyors
Conveyors, Belts
Cook & Hold
Cooking Equipment, Electric & Gas
Cooking Fuels
Cooking Oil Filter Machines
Cooking Oil Filters
Cooking Suites
Crushers, Can & Bottle
Custom Built Kitchen Equipment
Cutlery, Chefs
Cutting Boards
Dicers, Power Vegetable Cutting & Hand Operated
Dishwashing Compounds
Distributor, Food Equipment
Equipment, Automated Food Handling
Equipment, Dish Handling
Equipment, Food Processing
Equipment, Food Proportioning
Espresso / Cappuccino Equipment
Exhaust Fans
Exhaust Systems
Extractors, Fruit Juice
Food Covers
Food Processors
Frozen Custard Equipment
Fryers, Deep Fat & Convection
Grease Traps, Interceptors Or Extractors
Griddles And Grills
Hot Dog Grills & Cookers
Ice Cream Cabinets, Freezers & Machines
Ice Makers
Induction Cooktops
Infra-Red Ovens, Ranges & Broilers
Installation
Juicers & Juice Machines
Kettles, Steam
Kitchen Exhaust Systems
Kitchen Exhaust Systems - Cleaning
Kitchen Exhaust Systems - Installation
Kitchen Exhaust Systems - Maintenance
Kitchen Exhaust Systems - Service
Kitchen Printers
Knife Sharpeners
KVS Monitors
Maintenance
Matches
Ovens, Baking & Roasting
Ovens, Brick / Wood Burning
Ovens, Convection & Microwave
Ovens, Steamer & Smoker
Pasta Making Machines
Pizza Equipment
Pizza Ovens
Plastic Foodwrap
Popcorn Equipment
Pots & Pans
Pressure Fryers & Cookers
Ranges, Electric & Gas
Repair
Roasters
Rotisseries
Salad Dryers
Scales, Food
Slicers
Soft Ice Cream & Milk Shake Machines
Specialty Equipment
Steam Cookers, Tables
Steamers
Toasters, Automatic, Electric, Gas
Tray Covers
Tray Stands
Trays
Vegetable Cutter & Peelers
Waffle Irons
Warmers, Beverage, Dish, Plate, Food
Water Conditioning Equipment
Water Heaters

Maintenance

Ceiling / Wall Cleaning
Commercial Restaurant Equipment
Gas Appliance Connectors, Fittings, Distribution Products
Gaskets
Oil Filtration
Pest Control

Outdoor

Umbrellas
Misters, Outdoor
Outdoor Heaters

Reconditioned Foodservice Equipment

Reconditioned Foodservice Equipment

Refrigeration

Batch Freezers
Coolers, Beverage
Doors, Cold Storage & Freezer
Freezers
Refrigerated Sandwich & Salad Units
Refrigerated Trucks
Refrigeration Equipment, Display
Refrigeration Equipment, Reach In
Refrigeration Equipment, Walk In
Walk In Coolers, Prefab & Metal

Replacement Foodservice Equipment Parts

Replacement Foodservice Equipment Parts

Restaurants

Rice Products

Safety & Security

Floor Products & Safety
Safes & Locks

Services

Auctioneers
Chemicals
Equipment, Leasing
Linen
Power Washing
Uniform

Store Design & Furnishings

Air Screens, Doors & Curtains
Architecture
Bars, Portable & Folding
Bases & Legs, Table & Booth
Booths
Cabinets, Display & Refrigerated
Ceiling Replacements
Chairs
Cold Food Tables
Counters & Table Tops
Doors, Miscellaneous
Faucets
High Chairs
Hot Food Tables
Inserts, Steam Tables
Salad Bars
Shelving, Steel, Wire & Wood
Snack Bar Units
Stools, Bar & Counter
Tablecloths, Skirting, Padding
Tables
Wine Storage, Cellars

Tableware

Bar Supplies
Chafing Dishes
China
Coasters, Beverage
Cups
Cups, Disposable, Portion & Thermal
Cutlery
Dinnerware
Dinnerware, Ceramic
Dinnerware, Glass
Dinnerware, Glass Heat Resistant
Dinnerware, Metal
Dishes, Plastic
Flatware, Disposable
Flatware, Recovery Machines
Flatware, Silver Plated, Stainless Steel & Gold Plated
Glassware
Hollowware, Plated, Stainless Steel
Napkins, Disposable & Fabric
Place Mats
Plasticware
Serving Dishes
Utensils, Cooking & Kitchen
To Top